Here it is (finally!),
Philippians chapter 3
...and what the heaviness on my heart reinforced in my spirit.
If you missed my first two Philippians vlogs (and would like to see my secret love for dancing),
click here to watch chapters 1 and 2
.
Linking up with my sweet friend, Katie Orr, over at
Do Not Depart
. I just love that precious sister.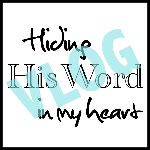 Bringing it home...
How have you seen the Word meet you in the moments?
(Come on, friends. I want to hear from you!)